The Classical Period (1750-1825)
A transitional era of about thirty years, termed "Rococo," between the Baroque and Classical periods set the stage for the emergence of the Classical style. The Rococo musical style was characterized by delicate, frivolous expression designed more to please than to excite the listener. Some of the transitional composers are Couperin, Scarlatti and the sons of J.S. Bach.
Emerging from the Baroque period was a new style, highly refined, simple in melodic line and harmonic texture and unified by symmetrical form. Developing during the early Classical period were expanded instrumental forms such as the sonata, allegro and rondo forms. The binary dance movements of the Baroque gave way to the ternary first movements of most Classical period works (sonata, concerto, chamber music, symphony) which comprised three parts: exposition (A) development (B) and recapitulation (A). Frequently, well-defined melodies were harmonized with triadic harmony, especially in keyboard works with a broken-chord figure called the Alberti bass (named after Domenico Alberti who was one of the first to use this type of accompaniment)
At the beginning of the Classical Period the musicians were still dependent on the church and wealthy employers. Gradually this began to change and by 1800 composers were writing mainly for the public.
Major Classical period composers are Haydn, Mozart, and Beethoven. Others include Cimerosa, and Cherubini, Gluck and Clementi.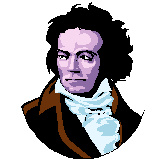 Some general characteristics of Classical Music are:
MELODY: Short and clearly defined musical phrases with two or more contrasting themes.
RHYTHM: Very defined and regular.
TEXTURE: Mostly Homophonic.
TIMBRE: The symphony orchestra was organised into four sections - strings, woodwind, brass and percussion. The harpsichord was seldom used.
E-mail us with your Favourite Classical Flute Fancy.
Thank you for calling. Please come back and visit us soon.
For free templates.